An Irish Treat from Centennial Celebrations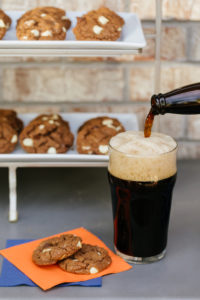 As we near the release of our sixth Junior League of Denver cookbook, Centennial Celebrations, we thought what better time to share a celebratory treat – just in time for St. Patrick's Day!
Our Recipe Collection and Testing Committee reviewed and sampled hundreds of recipe submissions, and we have to admit that beer in chocolate chip cookies sounded like a crazy combination.
However, we all couldn't wait to try these Irish Stout Chocolate Chunk Cookies. And it turns out our testers loved the cookies as much as the Cookbook Committee did!
The beer, coffee and chocolate flavors meld well together. These cookies would be a delicious addition for a beer tasting or a festive dessert for a St. Patrick's Day party.
We hope you enjoy these cookies as much as we did!
Irish Stout Chocolate Chunk Cookies
Centennial Celebrations
Serves: 3 dozen
2 (11-ounce) bottles Guinness® or other dry Irish stout
1 cup packed brown sugar, divided
2 3/4 cups all-purpose flour
1/2 cup baking cocoa
1 1/2 teaspoons instant espresso powder
3/4 teaspoon baking soda
1/2 teaspoon salt
1 cup granulated sugar
1/2 cup unsalted butter
1/2 cup shortening
2 eggs
1 teaspoon vanilla extract
1 1/2 cups white chocolate chunks
1 1/2 cups semisweet chocolate chunks
Cook the stout and 1/2 cup of the brown sugar in a saucepan over medium heat for 40 to 45 minutes or until thickened and reduced to about 1/3 cup. Let stand to cool slightly.
Preheat the oven to 350 degrees. Line 2 baking sheets with parchment paper. Whisk the flour, baking cocoa, espresso powder, baking soda and salt in a bowl. Beat the granulated sugar, butter, shortening and remaining 1/2 cup brown sugar on medium speed in a large mixing bowl for 3 minutes or until fluffy. Add the stout mixture, eggs, and vanilla extract and mix well. Stir in the flour mixture until incorporated. Fold in the white chocolate and semisweet chocolate.
Shape 2 tablespoonfuls of the dough at a time into balls, arranging on the prepared baking sheets. Bake for 12 to 14 minutes or until the edges are set. Let stand to cool for 2 minutes. Remove the cookies to wire racks. Let stand to cool completely.
Note: The beer and sugar can be cooked down a day ahead; refrigerate the mixture overnight.
If you would like to receive more information about Centennial Celebrations presales and release date, sign up here. You can also order our five other award-winning cookbooks .