2022 Legislator of the Year
In celebration of the tireless efforts our advocates make for Colorado's women and children, our Public Policy Council awards an individual whose dedication to public service and outstanding commitment renders paramount. This award is a token of gratitude and recognition of the hard work and support the legislative community has in the advancement of the League's mission.
The Junior League of Denver Public Policy Council is proud to honor Representative Serena Gonzales-Gutierrez as JLD's 2022 Legislator of the Year.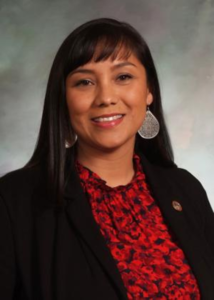 Representative Gonzales-Gutierrez represents House District 4 and is a third generation House District 4 resident. She was elected to the Colorado State Legislature in 2018 and during her first year was appointed by the Speaker of the House to the Commission on Criminal and Juvenile Justice as the legislative representative. She currently serves on the Judiciary and the Public Health Care and Human Services Committees and as the Colorado Democratic Latino Caucus Co-chair. During the 2022 legislative session, she sponsored/introduced 21 bills that were passed and was the prime sponsor of two bills the JLD supported with League-wide engagement: SB22-087 Healthy Meals For All Public School Students and HB22-1289 Healthy Benefits For Colorado Children And Pregnant Persons.
Please join us in celebrating Representative Gonzales-Gutierrez as the JLD's 2022 Legislator of the Year at the October 2022 General Meeting.