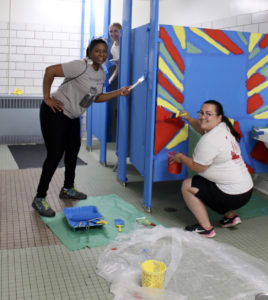 Make those volunteer hours count and maximize your donations! 
Many companies offer a matching gift program to encourage philanthropy among their employees, and some give volunteer grants based on the number of hours you volunteer at an organization, whether or not you donate financially. Your JLD dues should qualify! Gifts from employee spouses and retirees may also qualify for a match. Contributions of any amount help us provide meals, masks, books and support to the Denver community.
Use the search field below to see if your employer participates in a matching gift program, then look for the blue button to link to the necessary form(s) and guidelines. Be sure to scroll down to the Volunteer Grants section to see if your employer will match your volunteer hours. If you do not find your employer listed, please check with your company's Human Resources department to see if your company offers a matching gift program.
If you have any questions about Matching Gifts, please email fundraising@jld.org.
Helpful Information for Your Matching Gift Form
Junior League of Denver
3800 Buchtel Blvd. #103340
Denver, CO 80250
Tax-exempt Status:
Both the Junior League of Denver and the Junior League of Denver Foundation are 501(c)(3) organizations and contributions are tax deductible as allowable by law.
Tax IDs:
Junior League of Denver: 84-0453960
Junior League of Denver Foundation: 84-1201624