Trick or Treat? This spicy caramel popcorn from Centennial Celebrations is both.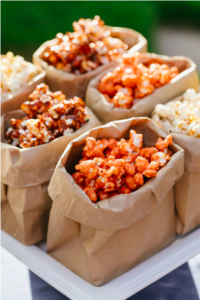 As the weather gets colder, we thought what better time to share this tasty autumnal treat from our sixth Junior League of Denver cookbook, Centennial Celebrations.
Slow-Burn Caramel Popcorn
Centennial Celebrations
Serves: 6
1⁄2 cup butter
1 cup firmly packed brown sugar
1⁄4 cup light corn syrup
1 tablespoon molasses
3⁄4 teaspoon Louisiana hot sauce
3⁄4 teaspoon cayenne pepper
1⁄4 teaspoon salt
20 drops red food coloring (optional)
10 cups premium popped corn
Preheat the oven to 200 degrees. Line a baking sheet with a silicone mat or parchment paper.
Melt the butter in a medium saucepan with high sides over medium heat. Stir in the brown sugar, corn syrup, molasses, hot sauce, cayenne pepper and salt using a wooden spoon. Cook until smooth, stirring constantly. Simmer for 5 minutes or until the mixture reaches the hard ball stage (250 degrees at sea level; subtract 1 degree for every 500 feet of altitude) without stirring; large bubbles should form over the entire surface. Remove from the heat. Stir in the food coloring; mixture may spatter.
Place the popcorn in an extra-large bowl. Pour the brown sugar mixture carefully over the popcorn and fold in using a rubber spatula; do not overmix. Spread on the prepared baking sheet. Bake for 1 hour or to hard-crack stage, stirring every 15 minutes. Let stand to cool completely. Break into chunks. Store, covered, in a dry place.
Learn more about Centennial Celebrations.