In addition to the experiential training our members receive through various placements and projects, the Junior League of Denver features a Training Council that provides a variety of learning and enrichment opportunities for our members, serving the very heart of our Mission. The council provides training across a huge spectrum of topics, and includes one-time trainings as well as ongoing learning opportunities.
Questions? Email training@jld.org.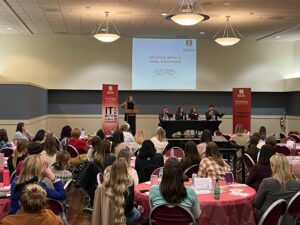 Our Training Council consists of the following committees:
General Meeting Committee: Plans and executes GMs in conjunction with the League President.
Personal Development Committee: Offers personal learning opportunities for all members on a wide variety of topics (e.g. whiskey tasting, self defense, personal finance).
Philanthropic Development Committee: Focuses on enhancing skills that increase the philanthropic capacity of women within the organization.
Professional Development Committee: Develops and enhances the professional skills of Junior League members.Leadership Development Program
Leadership Development Program (LDP) Committee: Provides training, coaching and learning opportunities for those early in their leadership journey who are looking to grow the skills it takes to become a future leader of the League and community.
Active Plus Committee: Voluntary mentorship program to add more personal development and connection to their year. This is in addition to a member's placement.
Get on Board Committee: A comprehensive training program which prepares leaders to effectively serve on nonprofit Boards in their community. This is in addition to a member's placement.
Research & Development Committee: Identifies new training opportunities to enable the Training Council to serve League members, in addition to evaluating existing trainings and implementing objectives from the JLD Strategic Plan. This is done through membership advocacy, data collection and analysis.