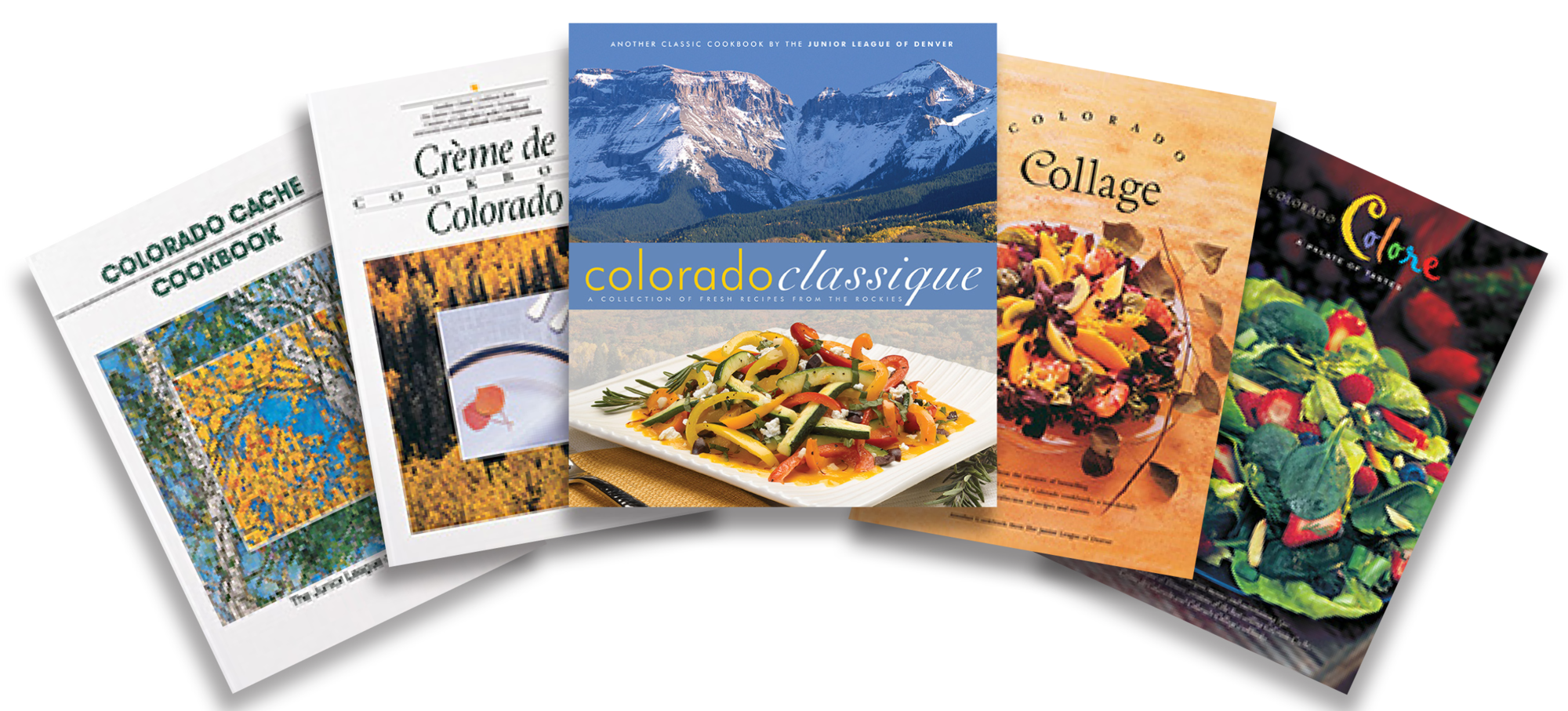 Want to purchase one of our cookbooks? Visit the Junior League of Denver's Cookbook site.
The Junior League of Denver (JLD) is proud to present its collection of five award-winning cookbooks: Colorado Cache Cookbook, Creme de Colorado Cookbook, Colorado Collage, Colorado Colore and Colorado Classique. Each of our recipes has at least been triple-tested!  In each of our cookbooks you will find:
unique ingredients,
healthy recipes and menus,
and mouth watering, award-winning photography.
Since 1978, the JLD has sold more than 2.1 million cookbooks while raising close to $7 million for League programs.
---
Centennial Celebrations, the JLD's sixth cookbook, will be released in 2019!
The League needs your help! Celebrating JLD's 100 years of serving Colorado and the many flavors of the Centennial State, Centennial Celebrations will feature and celebrate the meals and occasions that connect us. We are seeking fantastic recipes for gatherings of all sizes – from date nights to large holiday gatherings and everything in between! Submitting a recipe is easy – follow one of the below options and be sure to send your favorite by November 20 for consideration.
Web submission: Click Here, enter Book Code 8020-VS
Email submission: recipes@jld.org
Mail submission:
Junior League of Denver
c/o Recipe Collection
1140 Delaware Street
Denver, CO 80204
We would love to have as many JLD members as possible participating in the Centennial Celebrations recipe testing process! Opportunities to earn a Fund Development credit will be available. For more information about recipe testing and volunteering opportunities please click here.
Interested in becoming a sponsor? Email cookbooksponsors@jld.org.