The wait is over! CENTENNIAL CELEBRATIONS available for purchase!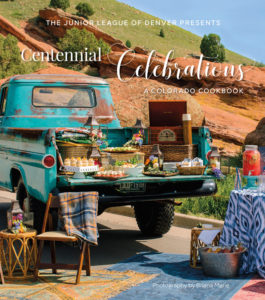 Packed with the colorful flavors of the Centennial State and honoring JLD's 100th anniversary, Centennial Celebrations includes more than 200 thoughtfully selected and thoroughly tested recipes for every season and occasion. The creative menus, recipes, and entertaining tips will inspire you to cook, connect, and celebrate… Colorado style!
---
The Junior League of Denver (JLD) is proud to present its collection of award-winning cookbooks: Colorado Cache Cookbook, Crème de Colorado Cookbook, Colorado Collage, Colorado Colore, Colorado Classique and Centennial Celebrations. In each of our cookbooks you will find:
unique ingredients,
healthy, thoroughly tested recipes and menus,
and mouthwatering, inspirational photography.
Since 1978, the JLD has sold more than 2.1 million cookbooks while raising close to $7 million for League programs.
Click here to purchase our award-winning cookbooks!
Click here for wholesale information. For wholesale questions, to establish a wholesale account, or to submit an order for an existing account, please contact wholesale@jld.org.