2021 Legislator of the Year
In celebration of the tireless efforts our advocates make for Colorado's women and children, our Public Policy Council awards an individual whose dedication to public service and outstanding commitment renders paramount. This award is a token of gratitude and recognition of the hard work and support the legislative community has in the advancement of the League's mission.
The Junior League of Denver Public Policy Council is proud to honor Representative Leslie Herod as JLD's 2021 Legislator of the Year.
Rep. Herod was elected in 2016 as the first LGBTQ African American in the Colorado General Assembly. Since then, she has passed over 100 bills, addressing criminal justice reform, mental health, addiction, youth homelessness and civil rights protections. Rep. Herod sponsored a number of different bills that the Public Policy Council has supported, notably legislation on providing menstrual hygiene products at no expense to students, expanding access to labor and delivery healthcare services and giving every Colorado newborn a $100 college kickstarter account. In addition to winning reelection in 2018, Herod championed a ballot initiative – Caring for Denver – that raises $35 million annually for mental health and substance abuse treatment and services for children and adults. She serves as the Chair of the House Appropriations Committee and is a member of the Joint Budget Committee.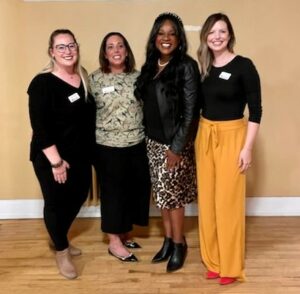 At a General Meeting held October 21, 2021, Public Policy Events Committee Step-Up Chair Brenda Garcia held a short Q&A with Rep. Herod where she encouraged us to think more expansively about women's rights (including advocating for paternity leave!). We also learned more about her foray into politics and her future plans.
Please join us in congratulating Rep. Herod on the honor of being named JLD's 2021 Legislator of the Year!