Junior League of Denver is pleased to announce it will provide volunteers and grant up to $25,000 during its 2023-2024 League year (June 1, 2023 – May 31, 2024) to area nonprofits that support the League's Mission of empowering women to become civic leaders and impactful community volunteers. If you were unable to attend our Info Session on August 29, click here to download the overview presentation. 
The League is currently working to disrupt the cycle of systemic poverty for women and families in Denver. Learn more about the JLD's expanded community focus here.
As a reminder, there are a few key changes to our overall granting process!
To be considered for a grant, interested nonprofits are encouraged to attend a Junior League of Denver Information Session on Tuesday, August 29 from 9:30-11 am. MAKE RESERVATION TO ATTEND
Interested nonprofits will also have the opportunity to learn more about ways to utilize JLD's trained volunteers in the future.
After attending the Information Session, concept letters are due by September 22, 2023. DOWNLOAD 2023-2024 GUIDELINES
Questions? Please email jldgrants@jld.org.
---
2022-2023 GRANT RECIPIENTS
Junior League of Denver granted $25,000 to two deserving organizations in May 2023. Congrats to the recipients below!
Colorado Village Collaborative
JLD granted Colorado Village Collaborative $12,500 to support the Welcome Village. Colorado Village Collaborative (CVC) exists to bridge the gap between the streets and stable housing by creating and operating transformational housing communities in partnership with people experiencing homelessness. With an empowerment-based and anti-oppressive lens, CVC reaches across sectors to address the current housing crisis. Together with their partners, they design and produce housing that is affordable, quick and easy to build, community focused, and environmentally friendly. Established in 2017, CVC built the first ever tiny home village and the Welcome Village (their second installment) opened in Dec. 2020. Staff assist Welcome Village residents in their individual paths toward stable housing that include providing resources and wrap-around services related to employment, healthcare, mental wellness and more. The goal is to provide meaningful and holistic support that propels an individual toward greater independence and permanent affordable housing. Learn more at coloradovillagecollaborative.org.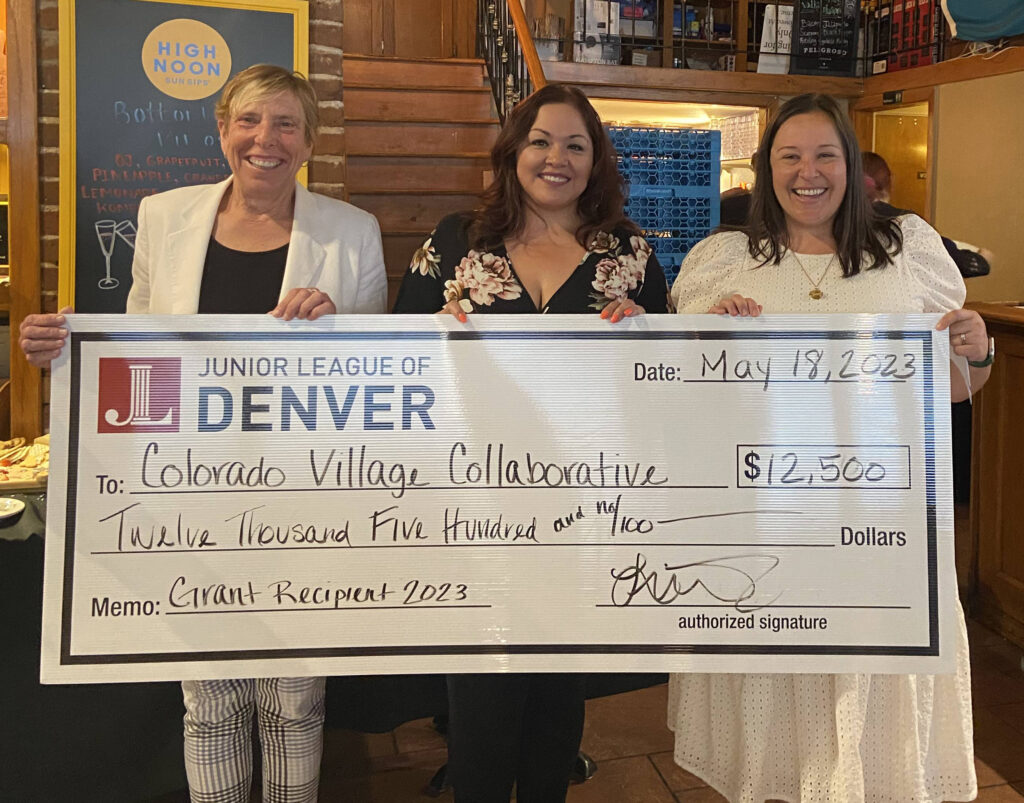 JLD granted We Don't Waste $12,500 to support the Mobile Food Market. We Don't Waste increases food access and protects the planet by rescuing and repurposing food, while educating and advocating to increase food security and decrease food waste. We Don't Waste's Mobile Food Market program delivers nutritious food directly to residents of Denver's food deserts – areas generally defined as low-income neighborhoods without easy access to healthy food choices. Through the Mobile Markets located in high-need neighborhoods, We Don't Waste is providing easy access to nutritious food for more than 500,000 food-insecure individuals each year, including over 150,000 children. Learn more at wedontwaste.org.