Junior League of Denver is pleased to announce it will provide volunteers and grant up to $25,000 during its 2022-2023 League year (June 1, 2022 – May 31, 2023) to area nonprofits that support the League's Mission of empowering women to become civic leaders and impactful community volunteers.
The League is currently working to disrupt the cycle of systemic poverty for women and families in Denver. Learn more about the JLD's newly expanded community focus here.
As a reminder, there are a few key changes to our overall granting process!
To be considered for a grant, interested nonprofits are encouraged to attend a Community Open House on Wednesday, August 10 from 9:30-11 am. MAKE IN-PERSON RESERVATION / MAKE VIRTUAL RESERVATION
Interested nonprofits must also be prepared to provide ongoing volunteer opportunities to JLD members to demonstrate support for the League's Mission and community focus.
After attending the Community Open House, concept letters are due by September 9, 2022. CLICK HERE TO DOWNLOAD GUIDELINES
Questions? Please email jldgrants@jld.org.
---
2021-2022 GRANT RECIPIENTS
Junior League of Denver granted $25,000 to two deserving organizations in May 2022. Congrats to the recipients below!
BeyondHome
$10,000
BeyondHome offers a comprehensive approach for families to become self-sufficient for life. At BeyondHome, families work hard to achieve personalized goals for their education, housing, finances and family.
JLD volunteers will assist with childcare while parents attend group skills classes.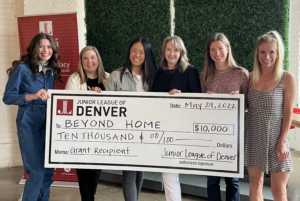 Minds Matter Colorado
$15,000
Minds Matter Colorado connects driven and determined students from low-income families with the people, preparation and possibilities to succeed in college, create their future and change the world.
JLD volunteers will lead the Alumni Engagement Committee. The goals of the committee will include helping alumni secure summer internships and supporting alumni with networking and skills.