Junior League of Denver is pleased to announce it will provide volunteers and grant up to $25,000 during its 2021-2022 League year (June 1, 2021 – May 31, 2022) to area nonprofits that support the League's Mission of empowering women to become trained civic community leaders.
The League's community focus is improving literacy rates in the Denver metro area through its own signature programs and by partnering with nonprofits who positively impact the lives of children and women. Additionally, the League recently made the decision to expand its impact to be inclusive of women and families experiencing systemic poverty.
As a reminder, there are a few key changes to our overall granting process!
To be considered for a grant, interested nonprofits are encouraged to attend a Community Open House on Wednesday, August 25 from 10-11 am. MAKE RESERVATION TO ATTEND
Interested nonprofits must also be prepared to provide ongoing volunteer opportunities to JLD members to demonstrate support for the League's Mission of promoting voluntarism.
After attending the Community Open House, concept letters are due by September 17, 2021. CLICK HERE TO DOWNLOAD GUIDELINES
Questions? Please email jldgrants@jld.org.
---
2020-2021 GRANT RECIPIENTS
Junior League of Denver granted $25,000 to two deserving organizations in May 2021. Congrats to the recipients below!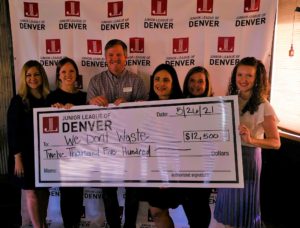 WE DON'T WASTE
$12,500
We Won't Waste provides nutritious food to residents of Denver's food desert communities through its Mobile Food Market program, a new farmers' market-style food delivery launched in early 2019. The organization's markets currently serve the Globeville and Elyria-Swansea (GES) neighborhoods, providing primarily fresh produce, dairy and lean protein to residents.
Starting Fall 2021, JLD members will support We Don't Waste staff at the Mobile Food Markets each month with set-up, tear-down, working the events, providing customer service to members of the community who attend the events and a variety of other tasks surrounding the events.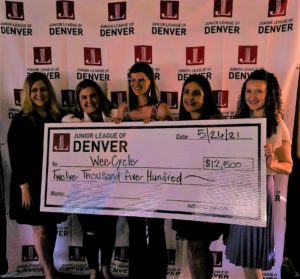 WEECYCLE
$12,500
WeeCycle collects new and gently used essential baby gear and distributes it to families experience poverty, homelessness, domestic violence, teen pregnancy and underemployment, and to organizations serving immigrants and refugees. In 2019, WeeCycle provided 170,196 baby gear items to 11,147 children, saving families $483,753. Essential baby gear is distributed at mobile markets across the Denver metro area.
Starting Fall 2021, JLD Members will meet WeeCycle staff at mobile market locations to help unload supplies, set up tents and tables and a variety of other tasks surrounding the events.