Ways to purchase JLD Cookbooks 
Our six award-winning cookbooks are perfect gifts for every occasion! We have different purchase options, whether you live in the Denver metro area or out of state. See more about our cookbooks below.
Have a JLD member deliver to your doorstep or set up a curbside pickup!  Please call the JLD office at 303.692.0270 (press zero to speak with a staff member).  Pay for your order over the phone and select from one of the following 2021 delivery dates: 10/23, 11/6, 11/20, 12/4, 12/11 and 12/18, or arrange a time for curbside pickup.
Purchase online or in person at a variety of local retailers listed on this page. Our bookstores have been hit very hard by the pandemic, and we encourage everyone to support them!
If you don't live in town or want to send our award-winning cookbooks to family and friends, you can purchase on Amazon or Barnes & Noble.
Special case pricing for realtors (buy 9 books, get 1 free)! Need a timeless closing gift for your clients? The perfect CO staging touch? A thoughtful, local addition to your holiday gifts? Please call the JLD office at 303.692.0270 (press zero to speak with a staff member) and order your cases today!
Cookbook proceeds support our Mission of empowering women to become civic leaders, as well as our current community focus around early childhood education.
Thank you for your support!
Questions? Email info@jld.org.
---

Centennial Celebrations
Retail Price $29.95
Purchase
Packed with the colorful flavors of the Centennial State and honoring JLD's 100th anniversary, Centennial Celebrations includes more than 200 thoughtfully selected and thoroughly tested recipes for every season and occasion. The creative menus, recipes, and entertaining tips will inspire you to cook, connect, and celebrate…Colorado style! Released in 2019, this cookbook is the newest addition to our collection. 
---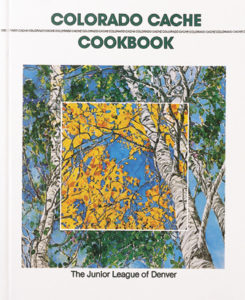 Colorado Cache
Retail Price: $19.95
Purchase
A goldmine of recipes from the Junior League of Denver! This treasure trove of recipes reflects Colorado's casual style of living, rich heritage and natural bounty. Includes 680 recipes that are upscale, yet uncomplicated, inspiring, yet reliable, in the tradition of great American cooking. Colorado Cache is the first in a collection of six famous and award-winning Colorado cookbooks.
---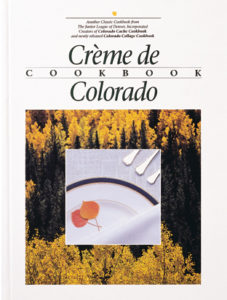 Crème de Colorado
Retail Price: $24.95
Purchase
The name says it best! This bestselling community cookbook has 700 recipes representing the best of Colorado cooking, reaching beyond the realm of the ordinary cookbook. Readers enjoy 15 sections of scrumptious recipes ranging from Wild Duck Gumbo to sensational Chicken Fajitas. The hardback version has been a smash since its publication. Color images, by Colorado naturalist photographer John Fielder, make the book a true showpiece, as well as an indispensable kitchen aide.
---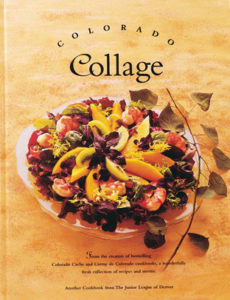 Colorado Collage
Retail Price: $27.95
Purchase 
Colorado Collage is a wonderful, historical collection of more than 500 recipes that are true to Colorado. Highlighting the delicacies around us, from fresh rainbow trout to fruits grown in the orchards of the Western Slope, enjoyed over and over again by those who have lived in Colorado. Celebrate the rugged individualism and unique, healthful ingredients that epitomize the West. Colorado Collage is a regional ethnic American cookbook with unique cuisine.
---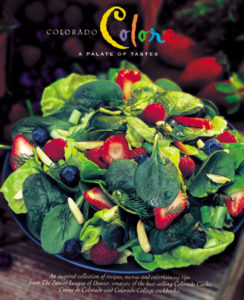 Colorado Colore
Retail Price: $29.95
Purchase

Colorado Colore is a selection of more than 300 recipes designed to be artfully inspiring, yet uncomplicated and accessible. The exciting tapestry of flavors and richly hued visual presentations of Colorado Colore have been chosen to offer a taste of the state's diverse cultural influences and bounty of colorful ingredients. Throughout the pages you will find recipes as visually delightful as they are appetizing. Savor the colors, flavors, and memorable theme-style menus with suggested wine pairings plus an entire section devoted solely to vegetarian fare.
---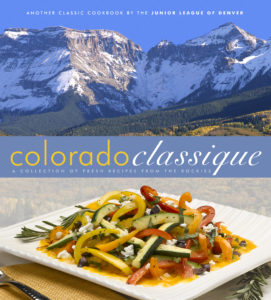 Colorado Classique
Retail Price: $29.95
Purchase

Colorado Classique features a collection of recipes from the casual Apres Ski Beans to the elegant Truffled Gnocchi, beautiful photography, and a Colorado restaurant chapter. Classique introduces beer flavor profiles provided by Boulder Beer Company, Colorado's first microbrewery. You'll learn whether a pilsner or a malt would be the perfect match for your meal. If you prefer wine, The Vineyard Wine Shop has provided wine pairing suggestions including details about why a particular wine will compliment your recipe. The book is certified environmentally conscious by the Forest Stewardship Council.
---
Click here for wholesale information. For wholesale questions, to establish a wholesale account, or to submit an order for an existing account, please contact Karen Mayo at wholesale@jld.org.