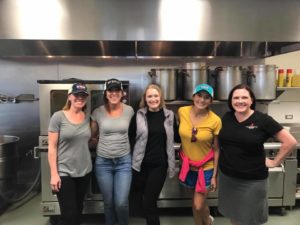 The Gathering Place – The JLD is partnering with The Gathering Place to expand and improve the current nutrition program. Volunteers also donate time at the Food Bank of the Rockies under a reciprocal arrangement between the two organizations. The JLD prepares four meals a month serving over 200 women. The JLD was honored with The Gathering Place 2013 Above and Beyond Award for an outstanding commitment to and support of The Gathering Place in the 2012-2013 year.
We are very grateful for this community partnership!
JLD Sustainer Giving Project
JLD Sustainers have chosen The Gathering Place as their Giving Project.  All JLD members are encouraged to collect the below much-needed items for donation at an ongoing basis.  Please keep this list of items handy so that next time you're at the store so you can grab something.  It's that easy!
Items needed:
Women's underwear (especially sizes 5, 6 and 8)
Deodorant
Travel-sized toothpaste
Travel-sized conditioner
Lotion
Disposable razors
Gently-used towels and bed sheets
New or gently-used sports bras
Items can be dropped off at JLD HQ (please coordinate with sustainers@jld.org if dropping off after office hours) or at Sustainer Council monthly meetings.  There are additional residential drop-off locations in Aurora, Denver, Greenwood Village, and Lone Tree.  For more information on meeting or drop off locations or if you have any questions, email sustainers@jld.org.  Thank you for your help supporting this JLD community partner!