Dear Friends,
The novel coronavirus, or COVID-19, is presenting as a complex, serious health issue to people all around the world. After consulting with experts and community partners, we have made the very difficult decision to cancel The Journey scheduled for Friday, March 13, 2020.
Throughout our more than 100 years of service in Denver, we have always been an organization that is known for meeting our community's greatest needs, and currently, our community's greatest need is for us to take the public health concerns surrounding COVID-19 seriously, and particularly the importance of social distancing. Although this email is specifically related to The Journey, we will follow up with our members regarding our plans for upcoming events and meetings.
As you know, The Journey is one of the JLD's most important fundraisers, and it helps enable us to further our Mission of increasing the potential of women and improving our community through the use of our trained volunteers. All of the funds that we raise through The Journey allow us to continue our important work. Last year, our members volunteered more than 6,000 hours, donated more than 5,000 books, served more than 8,000 meals, reaching more than 10,000 children and more than 22,000 adults.
With that in mind, we would be incredibly grateful to anyone who is willing to donate the cost of their ticket purchase to the League. However, if you want a refund, we ask that you let us know no later than Tuesday, March 31, 2020. Please email Celeste Sims at csims@jld.org, and she will provide confirmation as soon as possible.
Thank you so much to The Journey 2020 Co-Chairs, Bridget D'Angelo and Katherine Rainbolt, and all of the members of The Journey 2020 Committee who have worked countless hours on planning and executing this event.
Additionally, thank you to our members, guests, staff, sponsors, auction donors and community partners for your ongoing support of the Junior League of Denver's Mission.
Thank you for understanding. Please direct all questions directly to me at president@jld.org.
Sincerely,
Julia Lazure
2019-2020 JLD President

Featuring Keynote Speaker Carli Lloyd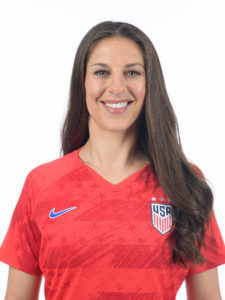 Friday, March 13, 2020
Hyatt Regency Denver
at Colorado Convention Center
650 15th Street
Denver, CO 80202
Get Directions
---
The Journey 2020 Event Information
Event Schedule
6 pm – Check-in / cocktail hour and silent auction
7:15 pm – Dinner
7:50 pm – Program
9:30 pm – After-party at Peaks Lounge on the 27th floor
VIP Details
For VIP ticket holders, the VIP Meet & Greet with Carli Lloyd at Peaks Lounge on the 27th floor begins at 6 pm. There are separate VIP check-in lanes in the foyer outside of the Centennial Ballroom on the second floor, next to main check-in. Wine at Peaks is complimentary for all VIP ticket holders.
Each person will have the opportunity to talk and take a photo with Carli Lloyd. The Meet & Greet will last approximately 45 minutes.​
---
The Journey is a celebration of our League's impact on the community and the dedicated women who make us so successful. This event is one of the largest annual fundraisers for the Junior League of Denver. The event supports our continued Mission of training women to meet their potential, promoting voluntarism and improving communities by focusing on childhood literacy in the Denver area. In 2019, the JLD provided a substantial sponsorship to One Book Colorado, a program that distributed more than 75,000 copies of Penguinaut by Marcie Colleen to every four-year-old in the state. Learn more about our community impact here.
The Journey is a fun evening out complete with dinner, drinks, a live and silent auction and an impactful program aligned with our Mission and focus. It's a great event to bring friends who may be interested in the League, or even bring a date.
If you have questions, please email journey@jld.org. 
---