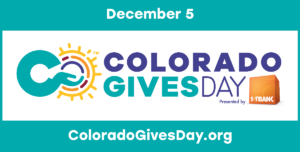 Last year, we raised nearly $24,000 on Colorado Gives Day. Let's exceed that amount by raising at least $30,000 this year! Please consider a gift of any amount to the Junior League of Denver, Inc. to further our work in the Denver community. You can make your gift today or donate next Tuesday, December 5.
This year, we are focusing our efforts on making every donation count even more through our partnership with the Colorado Gives Foundation. Every donation made now through December 5, 2023 is boosted by one of the largest community incentive funds in the country!
Our collective Junior League of Denver, Inc. raises funds for both parts of our organization so you can choose:
Option 1: Give to the Junior League of Denver Foundation and ensure our legacy of developing women continues for years to come, helping our daughters and granddaughters become skilled civic leaders and impactful community volunteers, held in a portfolio that distributes funds annually with proven return on investments. Click here for 10 JLD Foundation Fast Facts!
Option 2: Give to the Junior League of Denver and support this year's financial needs including our community programs and partnerships, training opportunities and advocacy efforts.
Want to be a Junior League of Denver, Inc. Major Donor? Major Donors are any person or organization who gives $500 cumulatively in a year.
Thank you for your support on Colorado Gives Day and throughout the year! Together, we are making the world a better place for women and families in Denver.